Juul Labs Inc, a California-based manufacturer of electronic cigarettes, has reportedly begun exploring a potential Chapter 11 filing, including seeking possible debtor-in-possession (DIP) financing and retaining Kirkland & Ellis, Alvarez & Marsal, and Centerview to aid in its efforts. Juul's consideration of a potential bankruptcy filing comes amidst the company's substantial trials and tribulations on the legal front.
Presently, the company is embroiled in a prolonged dispute with the federal Food and Drug Administration (FDA) over whether the company's e-cigarettes can remain on the US market. Earlier in June, the FDA issued an order banning Juul's products from the US market on grounds that the company failed to submit sufficient evidence to establish that its products were safe. The FDA ultimately administratively stayed its order pending an additional review and Juul's appeal of the agency's decision following a ruling in the US Court of Appeals for the District of Columbia that granted Juul's request to stay the FDA's ban on a temporary basis.
Aside from its contentious regulatory battles, Juul is also facing thousands of lawsuits alleging that the e-cigarette maker marketed its products to underage users. Such lawsuits include cases brought by states across the country as well as a multidistrict litigation (MDL) in California comprised of approximately 3,600 cases by individuals for personal injury and putative class actions on behalf of school districts and local governments.
In September, the company reportedly entered into a tentative settlement with approximately three dozen states to pay USD 438.5m in connection with its marketing and sales practices, leaving unresolved cases with nine remaining states.
In this piece, the Debtwire legal team takes a look at what a Chapter 11 filing could mean for Juul as it attempts to navigate itself out of its legal woes.
Bankruptcy benefits: the automatic stay
Typically, upon the filing of a bankruptcy petition, an automatic injunction (ie, an "automatic stay") is imposed against creditors and halts the commencement or continuation of actions against a debtor and its property.[1] The automatic stay is a powerful and key element of the bankruptcy process and was formulated with the intent to grant debtors breathing room from the reach of creditors.
Creditors are not at a complete loss, however. While the scope of the automatic stay is generally broad in its reach, the Bankruptcy Code offers several exceptions. Relevant here, the "police powers exception" to the automatic stay carves out actions asserted by governmental units as an exercise of their police and regulatory powers from the protections of the stay.[2] Depending on the applicable jurisdiction, courts typically apply either a pecuniary purpose and/or a public policy test to determine whether an action falls within the police powers exception. Collectively, the tests look to whether a pecuniary or private right is being adjudicated (in which case the exception does not apply) or whether the underlying purpose is to "promote public safety and welfare or to effectuate public policy" (in which case the exception does apply).[3]
Accordingly, while a Chapter 11 filing could provide Juul with an opportunity to be swathed in the protections of the automatic stay and obtain some breathing room as it navigates its various legal struggles, the benefits of a filing may nonetheless be dampened as a result of the police powers exception. To the extent the FDA, state and local governments, and related entities are exercising their "police and regulatory" powers in their pending actions against Juul, the lawsuits could be exempted from the automatic stay and proceed notwithstanding the company's bankruptcy filing. Juul would have to make a convincing argument that the parties are acting in nothing more than a creditor capacity as opposed to a regulatory capacity in order to have their actions stayed as a result of its Chapter 11 filing. At first glance, however, it appears to likely be an uphill battle for Juul to successfully argue such a position.
Can a Californian do the Texas two-step?
As Debtwire previously discussed, companies facing massive tort liabilities have increasingly turned to divisional merger tactics to address liabilities through the bankruptcy process in a maneuver commonly referred to as the "Texas two-step." A Jones Day-pioneered tactic, the process involves Texas entities dividing their assets and liabilities into one or more entities pursuant to a "plan of merger" with the bulk of liabilities allocated to a singular entity and such entity filing for Chapter 11 relief thereafter.
Most recently, 3M Company (3M) subsidiary Aearo Technologies LLC (Aearo) and Hess Corporation subsidiary HONX Inc have adopted an evolved version of the Texas two-step, which contains the structural hallmarks of a Texas two-step case absent the use of a divisive merger:
an entity saddled with mass tort liabilities seeks Chapter 11 protection while the balance of the company, including the parent entity, stays outside of bankruptcy;
the debtor seeks to establish a Section 524(g) trust to address its mass tort liabilities; and
a non-debtor entity enters into a prepetition funding agreement with the debtor to fund the Chapter 11 cases and the Section 524(g) trust.[4]
Similar to Juul, 3M is presently contending with its own MDL and various pending state court proceedings in the US District Court for the Northern District of Florida. Notably, as discussed above, Juul is represented by Kirkland & Ellis as it explores a potential Chapter 11, which is also representing both Aearo and HONX in their bankruptcies.
A summary chart of pending mass tort proceedings, including traditional Texas two-step cases, is set forth below.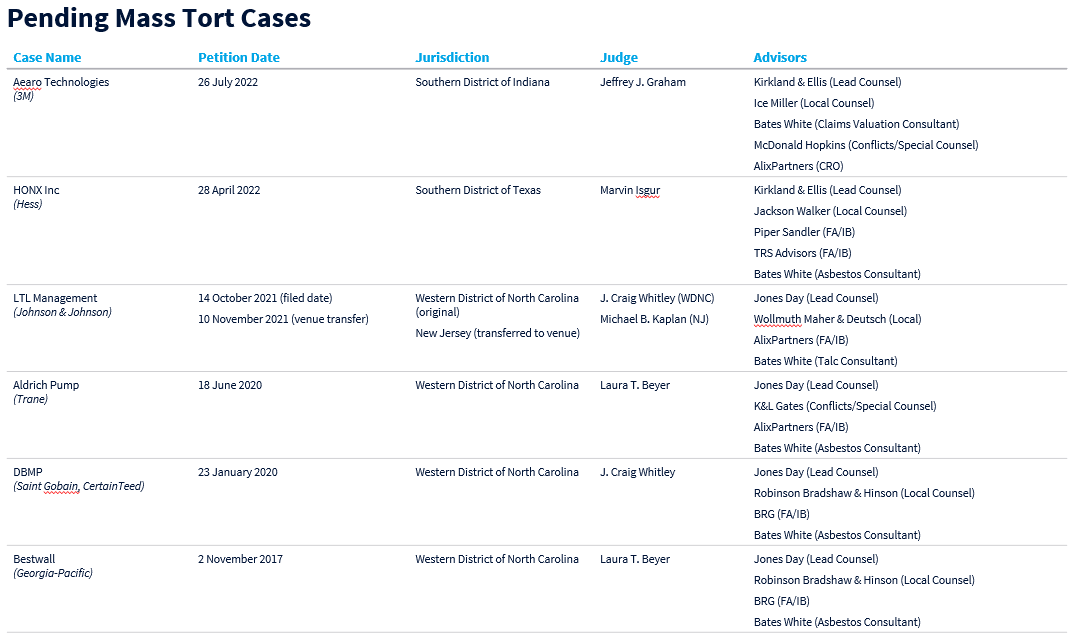 Whether Juul will pursue a traditional Texas two-step or a variant like Aearo and HONX will likely hinge on whether the company can successfully structure itself such that its liabilities are concentrated in a singular or handful of entities. Such a tactic is not immune from risks, however. As recent cases have shown, courts are inconsistent in their approach in extending the protections of the automatic stay to non-debtor entities and the ultimate success of such a method remains murky. Indeed, while the tactic proved successful for HONX before Judge Marvin Isgur of the US Bankruptcy Court for the Southern District of Texas who concluded that the automatic stay applies to Hess, it flopped before Judge Jeffrey Graham of the US Bankruptcy Court for the Southern District of Indiana in Aearo. Judge Graham issued a ruling in August denying Aearo's request to, among other things, extend the protections of the automatic stay to 3M in connection with the pending MDL and state court proceedings.
Looking ahead
A bankruptcy filing for Juul could afford the company some much-needed breathing room as it traverses a web of regulatory and legal battles. The effectiveness of a Chapter 11 filing, however, will likely hinge on how far the company will be able to extend the scope of the automatic stay to pause the multitude of legal matters it is presently facing. Whether and how Juul will do so will yet be seen.
Related Links:
Aileen is a former practicing restructuring attorney. Prior to joining Debtwire as a legal analyst, Aileen served as law clerk to two judges in the United States Bankruptcy Court for the Southern District of New York. She also practiced in the restructuring groups of Kirkland & Ellis LLP and Gibson, Dunn & Crutcher LLP where she represented debtors and financial institutions in Chapter 11 proceedings.
Any opinion, analysis or information provided in this article is not intended, nor should be construed, as legal advice, including, but not limited to, investment advice as defined by the Investment Company Act of 1940. Debtwire does not provide any legal advice and subscribers should consult with their own legal counsel for matters requiring legal advice.
-----------------------------
Endnotes
[1] See 11 U.S.C. § 362(a)(1).
[2] Section 362(b)(4) of the Bankruptcy Code provides that the "commencement or continuation of an action or proceeding by a governmental unit . . . to enforce such governmental unit's . . . police and regulatory power, including the enforcement of a judgment other than a money judgment, obtained in an action or proceeding by the governmental unit's . . . police or regulatory power" is an exception to the automatic stay protections under the Bankruptcy Code.
[3] See e.g., In re Nortel Networks, Inc., 669 F.3d 128, 139–41 (3d Cir. 2011).
[4] Section 524(g) of the Bankruptcy Code codifies the ruling in In re Johns-Manville Corp., 68 B.R. 618 (Bankr. S.D.N.Y. 1986), which provided for a channeling injunction and the establishment of a trust to address a bankrupt company's current and future asbestos-related liabilities.
Did you enjoy this article?
Add the following topics to your interests and we'll recommend articles based on these interests.
Consumer & Retail
Distressed